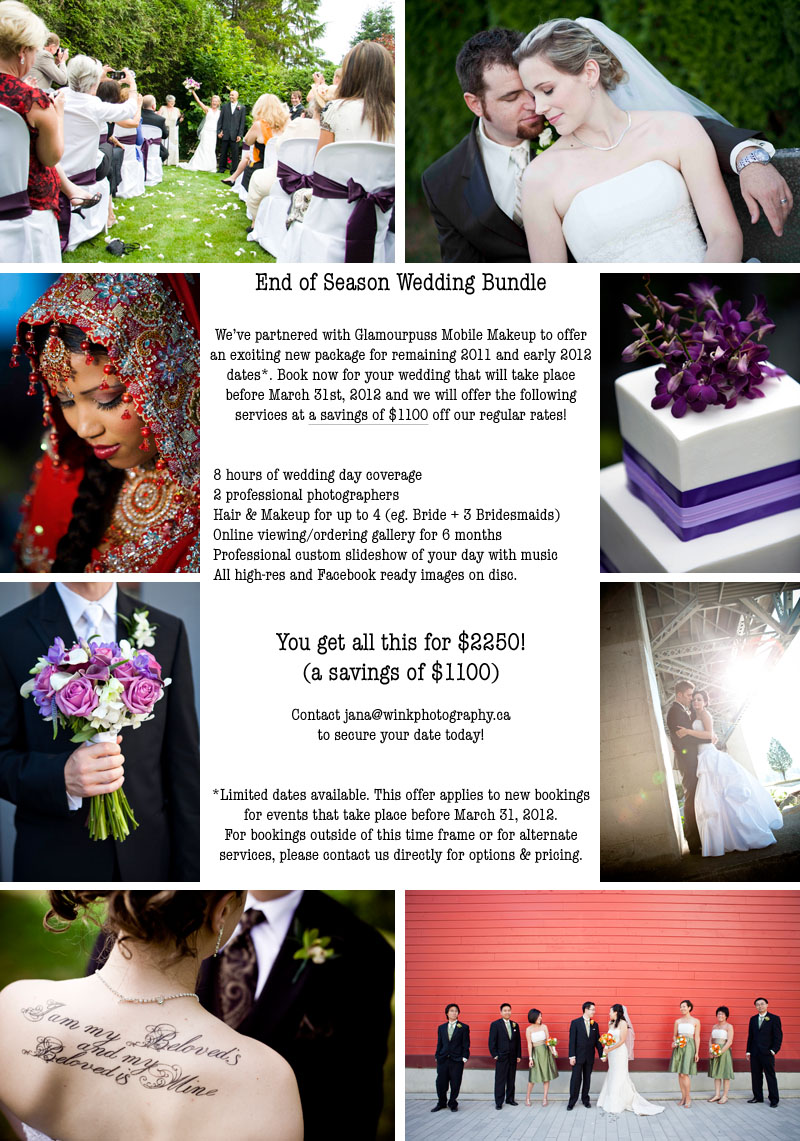 FAQs… sort of (frequently asked questions that no one's asked because it's a new, one-time offer)
Q. My wedding doesn't fall into your thoughtfully designed offer.  Does that mean you don't want to hear from me?
A. Absolutely not! Meaning, it absolutely does not mean that not absolutely we do not want to hear from you.  If you're half as confused as we are by this answer, then please contact us anyway and we'd be happy to talk about your day.
Q. Who will be providing the hair and makeup service? Please don't tell me it's your sister or something.
A. Well, this is awkward. It actually is Jana's sister but fortunately she's also the extremely talented owner of Glamourpuss Mobile Makeup www.glamourpussmakeup.ca
Q. What if I don't need hair and makeup service for my wedding?
A. If that's the case, you're going to need another package!  Contact us and we can discuss a package that will better suit your needs.
Q. Do you offer albums and prints?
A. We're so glad that you hadn't yet asked this question but we thought to ask it for you.  Yes we do! In fact we believe so strongly in the value of having a tangible record of your day that beginning in Spring 2012 all of our packages will include at least one custom designed album. We're also happy to add any additional offered services to this package, such as photobooth, extra hours, etc.
Q. What if you're already booked for my date?
A. Tough luck! That's why we're offering a special to fill in our remaining dates.  okay, that came off a little harsh… Do not fret! We have a network of other photographers that we trust to refer you to who might still be available.
Q. Why aren't these FAQs very helpful?
A. We brainstormed these over a couple of glasses of wine and as was mentioned above, no one has had an opportunity to ask any real questions yet. But thank you for taking the time to read them.