tips for timing, choosing a location, outfits, managing kids and more!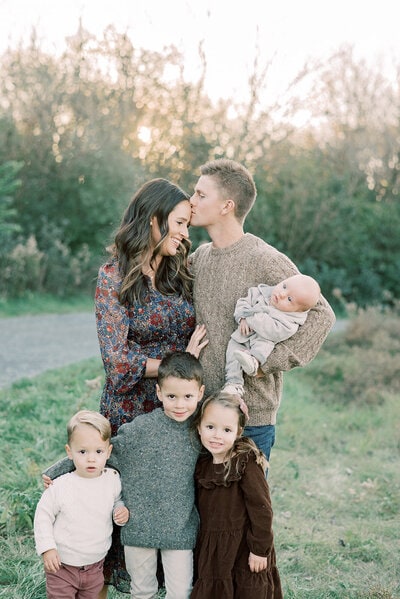 We're so excited to be working with you and we can't wait for our time together during your session. It's normal to be a little anxious about your session. You're a busy family with quite a few things on your plate.
That's actually one of the reasons why we put together this guide. It covers things to keep in mind when it comes to choosing a location, outfits, prepping kids and more.
Hopefully it helps you feel fully prepared for our time together, but should you have any other questions or if you need advice, please feel free to reach out!
One thing we've learned over the years is that our experience of our children is different from what others experience. For example, if you're at the grocery store with your three year old son and he starts yelling, you probably think he's irritating other customers more than he is. Most likely, those other customers just see a cute (slightly loud,) three year old.
The same holds true for photo sessions. Your child is in a new element and a stranger is holding a big camera in front of their face. They're likely not going to entirely be themselves. They may show off more than usual or your extrovert may suddenly become shy.
Rest assured, it's all okay.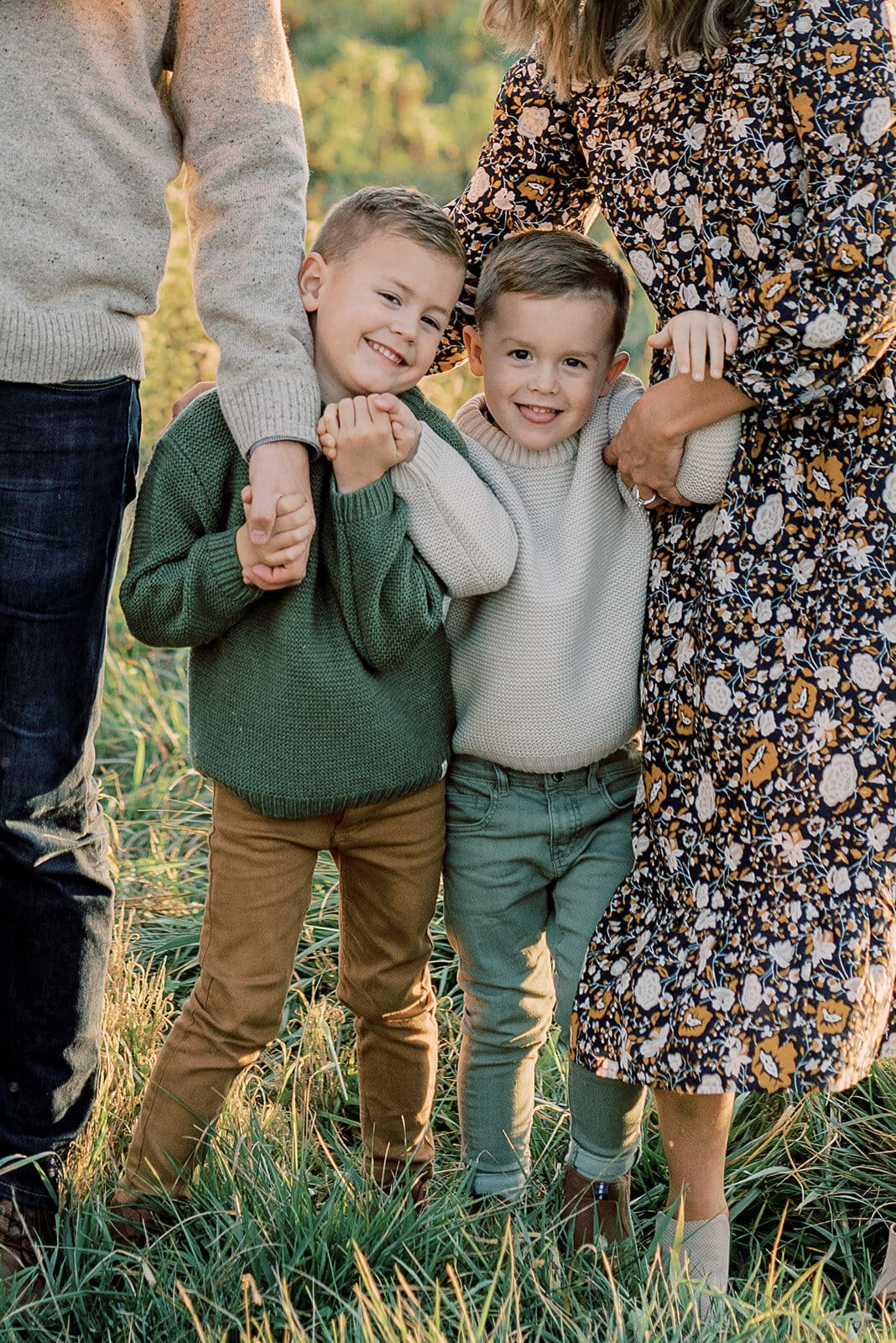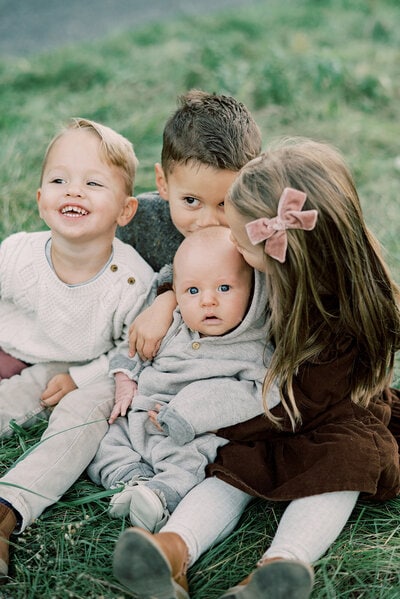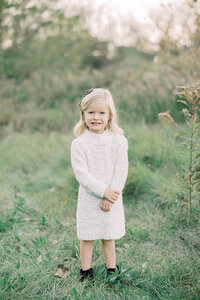 The best thing you can do for your kids is to go with the flow and stay positive. The more you relax and have fun with things, the more likely your little one (or big one,) is to get on board.
It can also be helpful to pack a few treats and bribes for younger children. Favorite toys, special snacks and the promise of ice cream afterwards work wonders.
We're incredibly patient with kids and that we have a few tricks up our sleeve to help get even the smallest ones to cooperate.
If we'll be photographing the newest members of your family, the following tips below will help ensure everyone is happy throughout the session.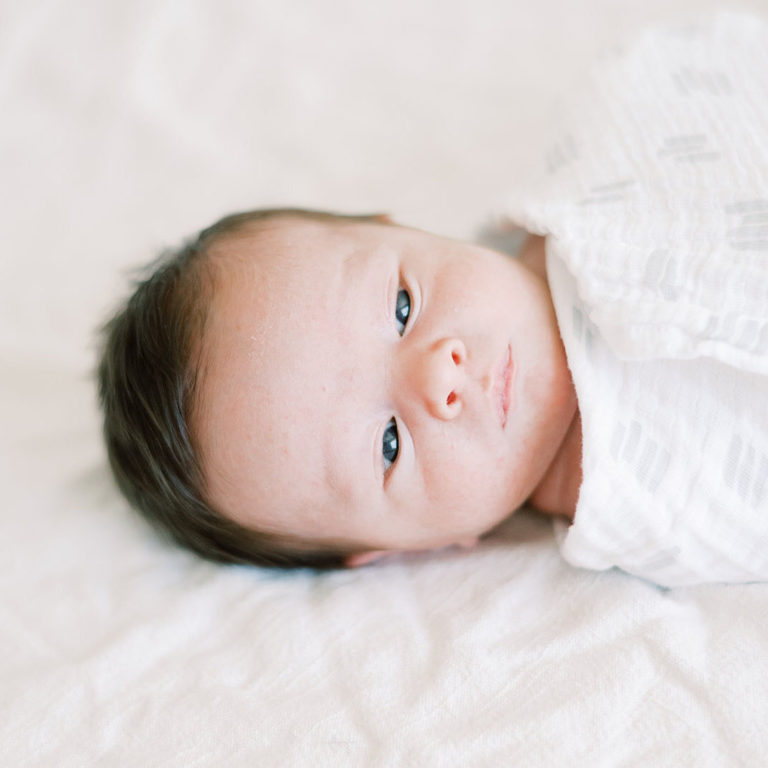 Feed and change your little one's diaper right before we arrive. This helps ensure that they are ready to go as soon as we arrive. However due to the tiny size of their tummies, it's also likely that they'll need another feed (and maybe a diaper change) during the shoot.
Please don't worry about pausing the session to feed your little one. This is normal! We plan extra time for newborn sessions.
While your entire house doesn't need to look like it's ready for Pinterest, we do recommend cleaning up the nursery and any places you think we might shoot. This might include your bed, the couch or a spot in your home with beautiful natural light. But truly, that's all you need to prep. We know you're in the throes of newborn life and we won't judge the pile or dishes in the sink or baby paraphernalia that has suddenly taken over the house.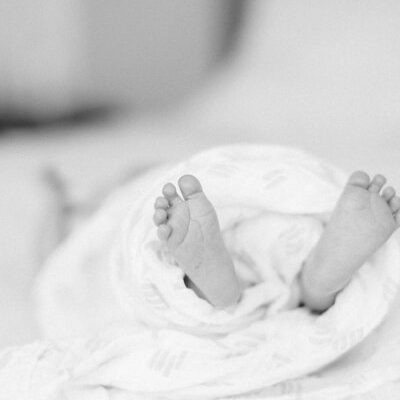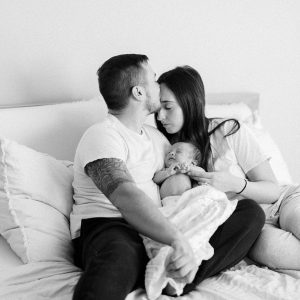 This is a season when you might not quite feel like yourself. A fresh outfit you feel good in goes a long way. We've found longer, a-line dresses that are nursing friendly are often the most flattering.
Brands like Petal and Pup and Morning Lavender tend to have quite a few of these at affordable prices. Session days are also a good day to take others up on that offer to help. You are one hard working mama and if you have time to nap, shower and get ready in peace, you're going to love these images a lot more.
You've likely realized this by now, but babies can be a bit messy. It's always a good idea for all members of the family to plan an extra outfit just in case.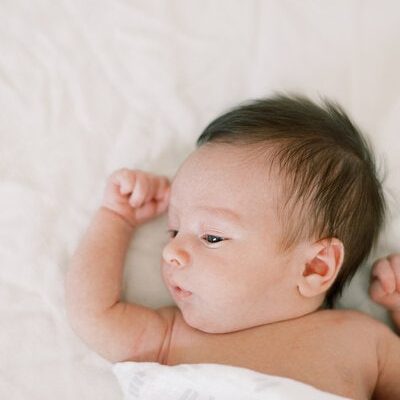 Is there a "good" time to take photos?
We've found that there isn't a "good" or "bad" time to take your photos. We normally plan sessions based on a particular "look" our clients have in mind, spring flowers for example, or based on schedules.
Sessions typically last about an hour and a half and when when we can—we love to begin sessions about two hours before sunset. We prefer to shoot when the sun is lower in the sky to avoid harsh shadows and bright sun patches. The first two hours after sunrise is also an ideal time to shoot.
We schedule sessions during what we believe will be the best light of the day – which means that it's super important to be on time. If you're late to an evening session, we could run out of light before we've finished shooting and if your session takes place in the morning, the sun gets more harsh as it rises.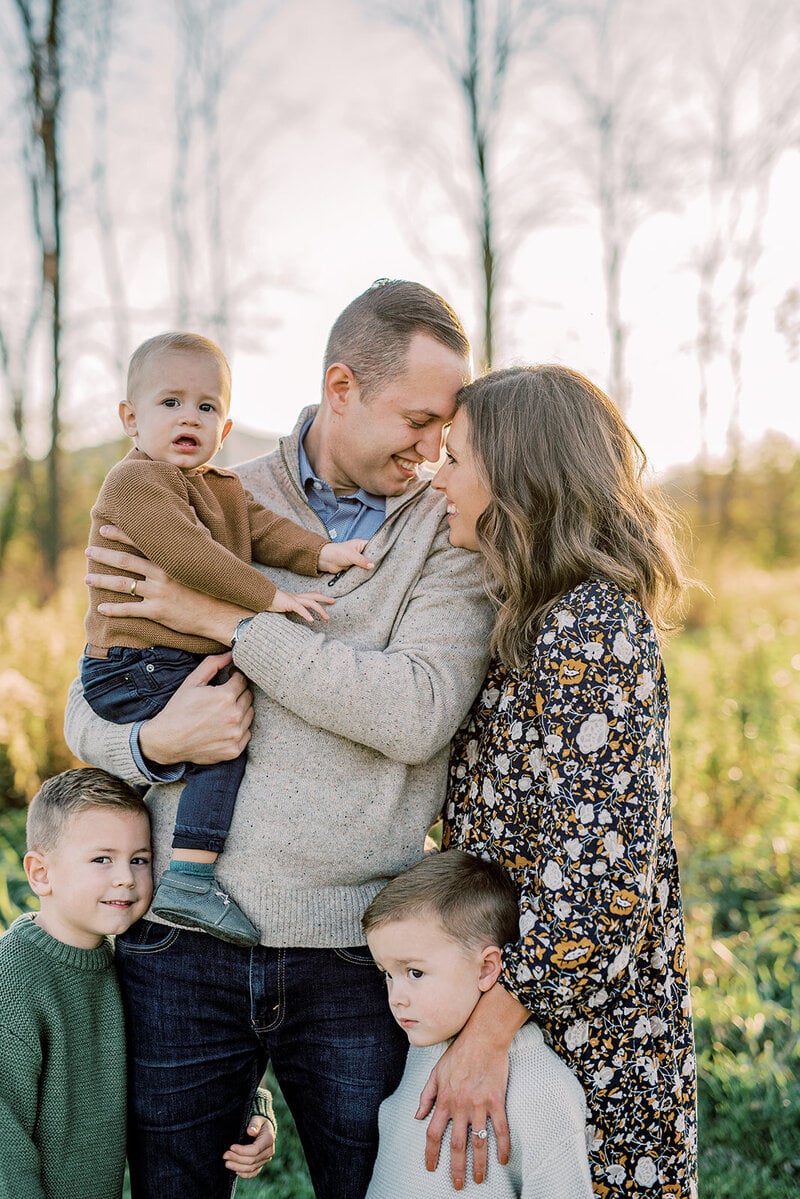 In the warmer months, sunset sessions often fall during the witching hour. They may even fall during or after bedtime.
As much as we love a consistent bedtime routine, in order to capture the best light during "golden hour", we're like going to need to throw off your schedule a bit.
If our session takes place close to dinnertime, we recommend feeding kids (and yourselves!) before we begin shooting.
If your little one is going to be going to bed later, consider pushing their nap a bit that day, letting them sleep longer or packing pj's so that you can quickly tuck them into bed as soon as you get home.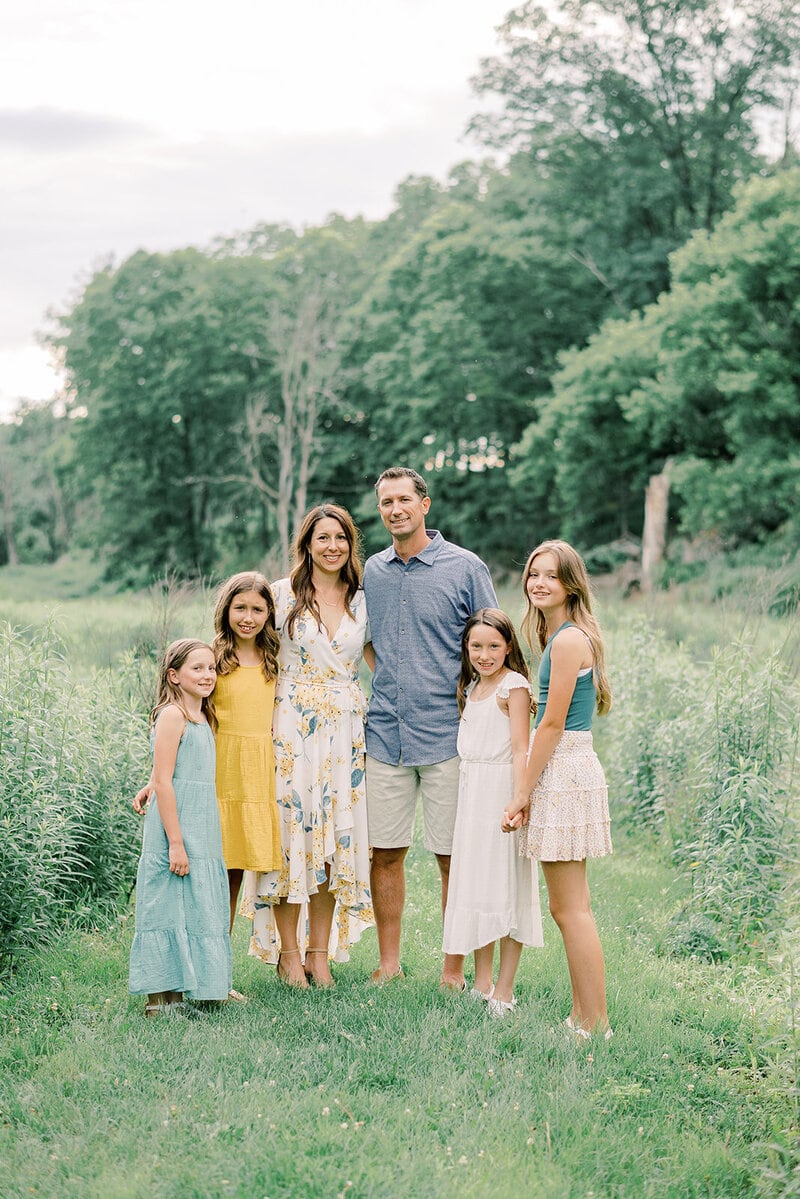 If your session takes place in the fall, while it might be tempting to dress your little one in a pumpkin costume to eternally remember the cuteness that babies in costumes in giant piles of leaves holds, we advise keeping attire a little more neutral.
Yes, that image would crush it on the 'gram, but if you're hoping to print these images for your walls, will you always want to see that pumpkin costume?
The same holds true for images taken for Christmas cards. While those red and green sweaters might be worthy of the Minted hall of fame, are you really going to want to look at photos of yourselves in holiday sweaters in the summer?
If you're looking for outfit advice, feel free to send ideas our way! We're happy to help curate a wardrobe that not only feels coordinated, but that looks beautiful for years to come.
A few things to keep in mind during each season: 
OUR FAVORITE PLACES TO SHOOT
The best session locations are often meaningful to our individual families; however, we're also happy to make recommendations. From ski slopes to lavender fields to apple picking and college campuses, the options for session locations are endless!
Jefferson Memorial 
Georgetown 
Maryland State House 
Capitol Hill
An old mansion  
Eastport (Annapolis) 
St. Michaels 
The Narrows (Kent Island) 
Naval Academy 
Chestertown
Federal Hill 
Downtown Annapolis 
Fells Point
The Narrows (Kent Island) 
Terrapin Park
Jonas Green State Park
A Vineyard 
Tree & Flower Farms 
Kinder Farm Park 
Quiet Waters Park 
Patapsaco Valley State Park 
Cooking class 
Hiking
Sailing / Boating 
The above locations are all beautiful but we also love exploring meaningful locations with our families!
We know that some family members just happen to be furry and we love when families choose to incorporate pets into their session. Keep in mind that bringing a pet along often means that we'll need to choose a pet friendly location.
We recommend planning for your pet to be at the first part of your session and having a friend take them home. We won't use the pet in every single photo so it's also nice to have someone available to hold him or her in between shots.
If you're going to bring a pet, we recommend exercising your pet before the session and bringing your pets favorite toy or treats! Depending on your pet's fur type, it might also be a good idea to groom them before the shoot.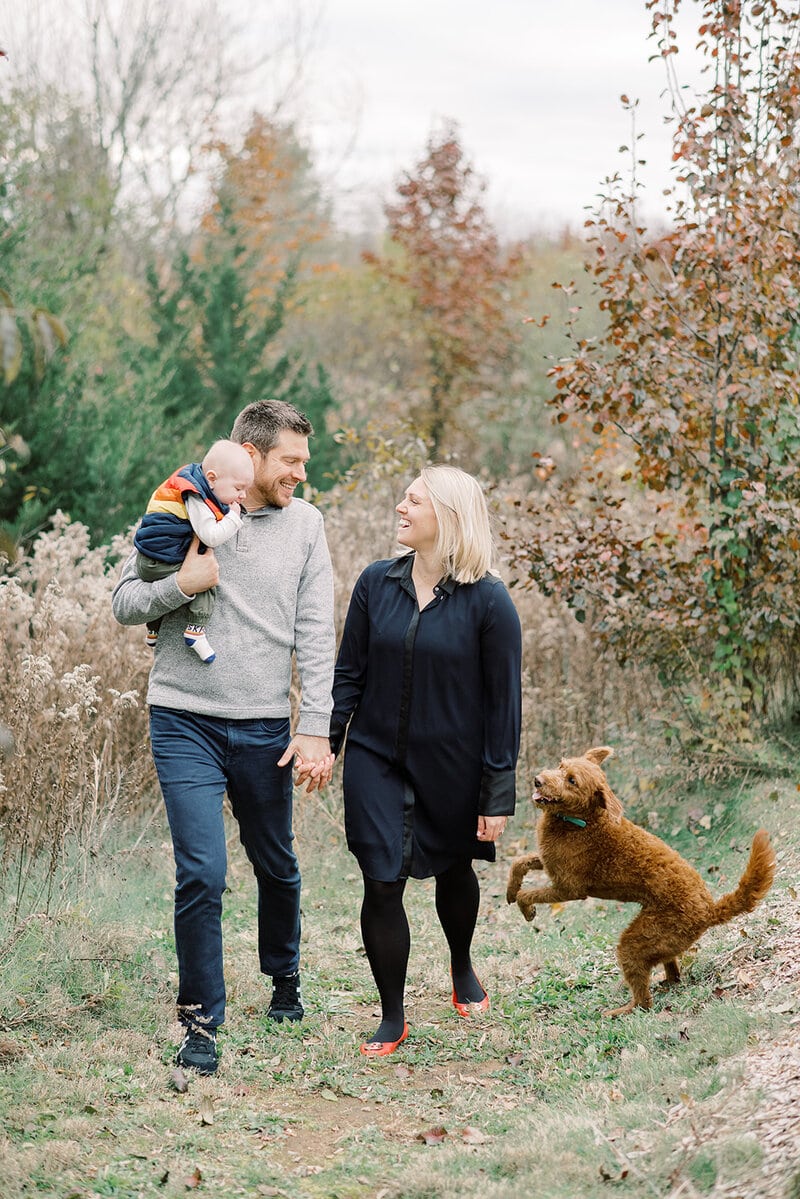 It's typical for us to schedule two session dates. A primary date and a rain date. Having two dates helps us make sure that your photos happen in a timely manner. Coordinating schedules can be tough and we've found that the best way to make sure our families get the look they have in mind for their photos is to schedule two dates at the same time.
We'll check in the week of your session to confirm the time & location we're meeting and the weather. We know it takes a lot of time to get ready for session and it's the worst to get dressed up and drive out to your session only to have it rain. Let us know what works best for your family, but if the weather looks like it won't be great, we typically try to make the call at least 12 hours in advance.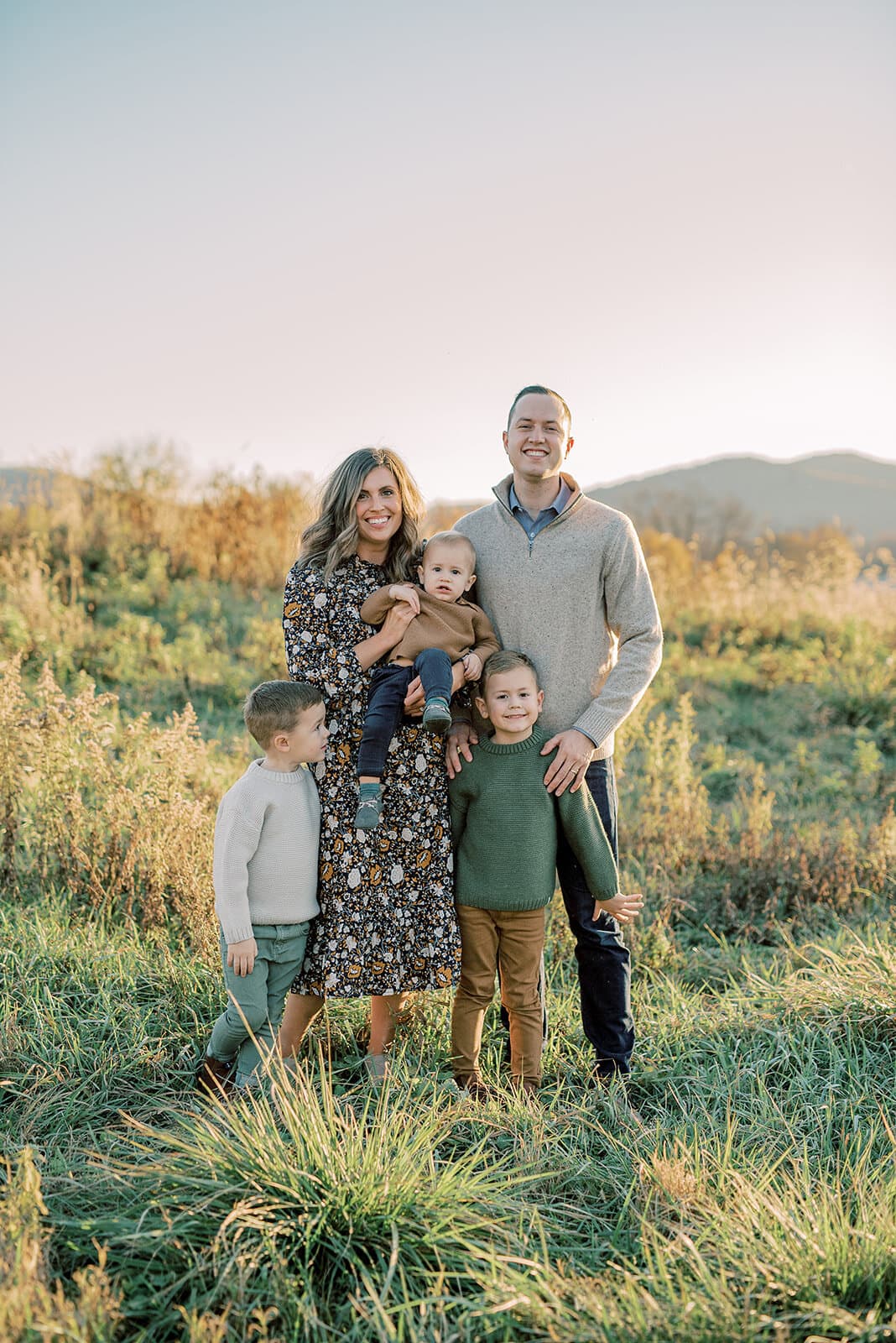 "What do I do with my hands"?
When it comes to posing for your session, you don't need to worry about a thing! We'll guide you through the entire process beginning with "poses" that are super easy and natural. If we tell you to do something that feels a little funny, it's probably because we know it's going to make everyone laugh – and that's the photo we're actually looking for.
Throughout your session, we'll keep an eye on your hair, makeup and outfits to make sure things stay in place. We want you to feel as relaxed as possible and enjoy your time together!
If you have booked an extended family session (more than one household, grandparents, etc), we have a few tips to help make photographing this larger group a bit easier on everyone.
Please send us all family groupings ahead of time so that while we're shooting, we understand who should be photographed together.
While you don't need to draw us a family tree (although bonus points if you do!) something like this would work well:
Grandma – Jean
Grandfather – Max
Sam (son of Jean + Max) and Tina.
Their Kids: Jason (10), Julianne (5) and Jack (2)
Elizabeth (son of Jean + Max) and Paul
Their Kids: Austin (9) and Claire (6)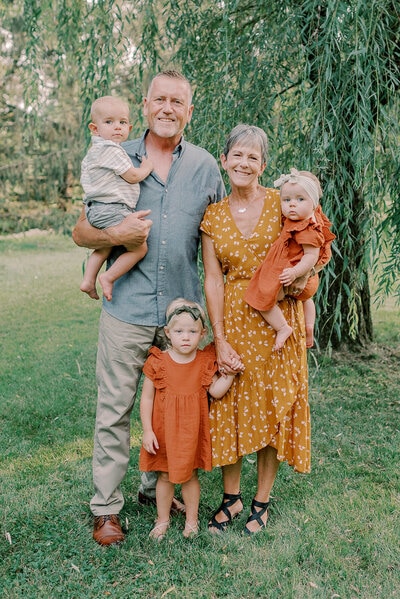 When it comes to choosing outfits for larger families, we recommend coordinating with one another ahead of time. Photographs typically come out best when families choose a color palette or a few colors over wearing the exact same thing (think: the white polo and khaki photo uniform of the 90's.)
Outfits that feel a bit special (your "Sunday best") but that you still feel comfortable in generally result in the best images.
If you need any advice in this area, just let us know!
When it comes to choosing a location for larger groupings, there are a few extra elements to keep in mind. Locations should be easy to access, limit walking and be safe for young children.
While we can get away with shooting small families in a downtown setting, for larger families, we'll need a bit of space to spread out. Family homes with larger yards (and open shade), parks and outdoor settings typically work best for extended families.
Following the session, we'll deliver a gallery with the edited images. Please let us know ahead of time who should have access to this gallery. If you send us a list of the email addresses, we can set those up at the time of delivery to give all necessary parties access.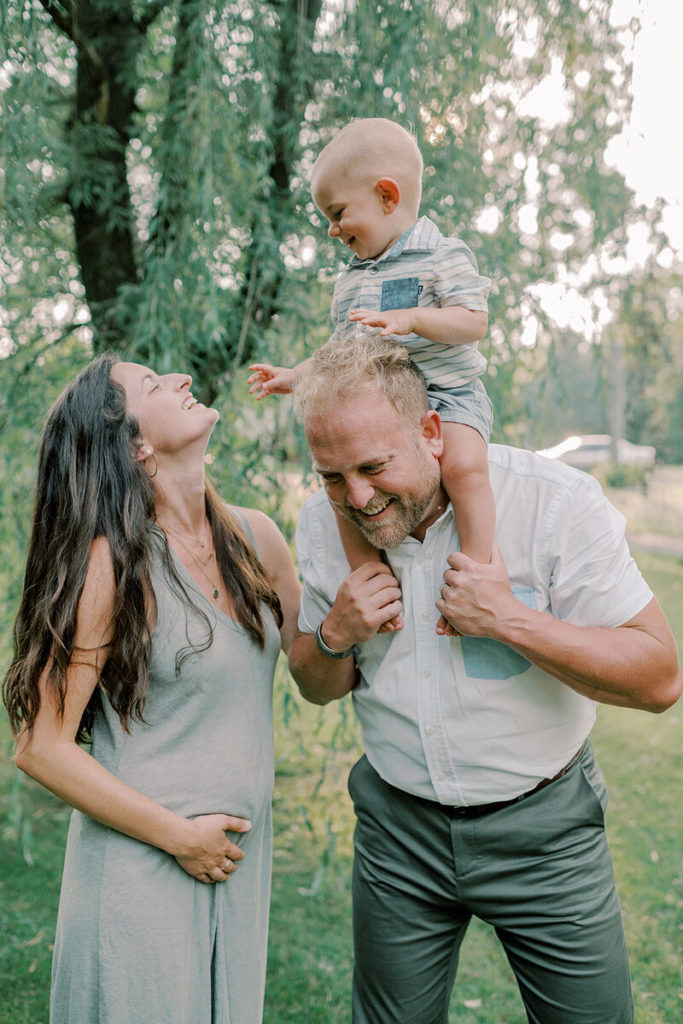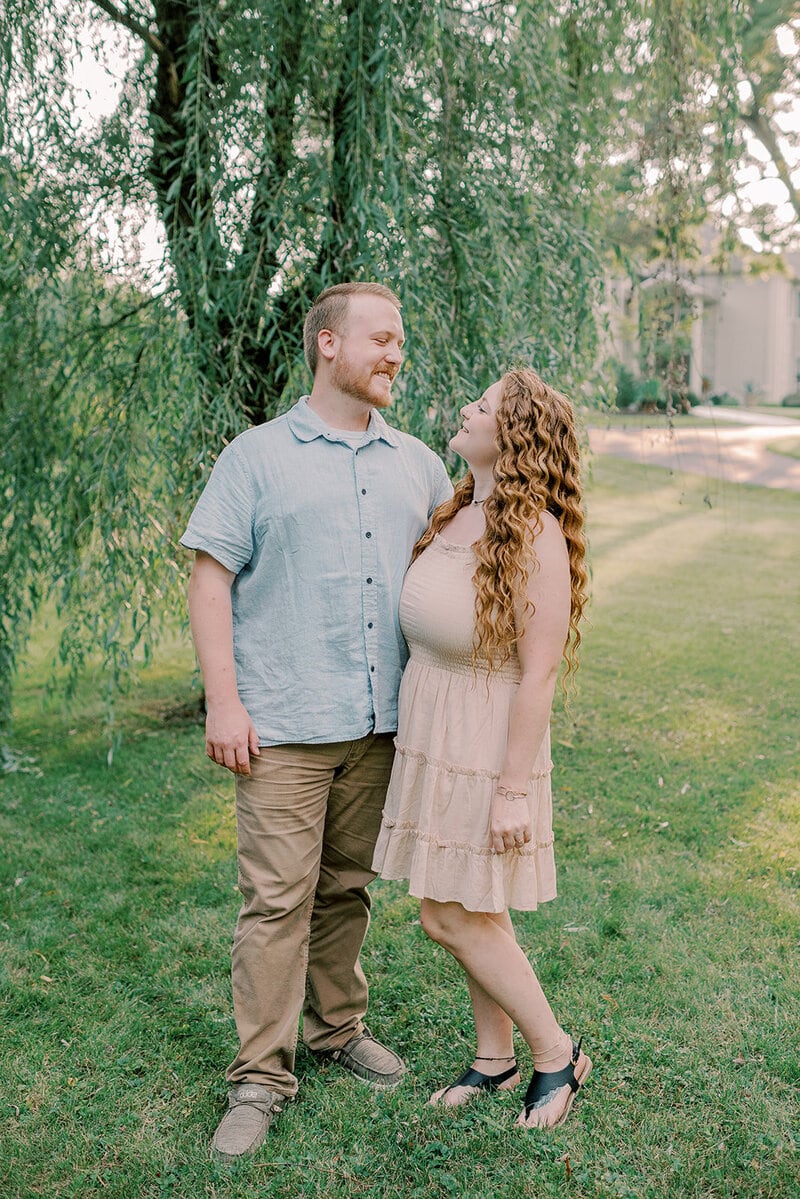 EXAMPLE EXTENDED FAMILY SHOT LIST
Please note that this list is just a starting point and that we're happy to take any requested family portraits as long as time allows!
FREQUENTLY asked QUESTIONS
WHEN WILL I RECEIVE MY IMAGES?
While turnaround times can vary by season, we aim to deliver all images within three weeks of your session.
HOW MANY IMAGES WILL I RECEIVE?
While we don't guarantee an exact number of images, we will make sure we capture your family thoroughly. Most families should expect to receive at least 25 edited images following their session.
CAN I SHARE THE IMAGES ON SOCIAL MEDIA?
You are absolutely welcome to share images on social media. To ensure that our work is properly represented, we ask that you refrain from any edits. We also appreciate image credits and tags as they help us to continue to grow as a business.
DO I OWN THE RIGHTS TO THE IMAGES?
By default, the creators of images always own the rights to the images. However we'll give you a release to use, print and share your images. The only thing you won't be able to do is sell your image as a stock photo. We won't do this either without your written permission.
WILL YOU RETOUCH OUR IMAGES?
We do light retouching on all of our images. This means that if there are any glaring objects that should be removed (such as a bump from the tumble your toddler took that morning,) we'll remove it. Larger edits (such as removing tan lines,) require more time and would require us to add additional editing hours to your collection.
HOW LONG WILL I HAVE ACCESS TO THE IMAGES?
We guarantee that your images will remain in an online gallery for at least a year. While your galleries may stay up longer than that, we cannot guarantee it. Once your galleries have been delivered, we highly recommend downloading all high resolution images to several devices. Consider investing in a portable, waterproof external hard drive.
CAN I PRINT THE IMAGES ON MY OWN?
Yes, you are welcome to print the images on your own. If you do this, we recommend making sure that the printer does not color correct the images (many automatically do this.) We also recommend looking for a high quality printer. While 10 cent prints sound great in theory, the cheaper printing quality often won't do your images justice. Paper quality, color correction and a handful of other factors play a big role in the way your prints turn out. This is one of the reasons why we LOVE offering prints to our clients.
HOW LONG SHOULD WE PLAN FOR THE SESSION TO TAKE?
We typically plan about 90 minutes for sessions. While we likely don't need to be shooting this entire time, this does give us the flexibility for location changes, rowdy kids and time to warm up.
As soon as possible after your session is complete, we'll back up your images and begin the editing process. Unless we have a holiday closure, you can expect to receive your edited, digital images between 3 and 4 weeks after your session.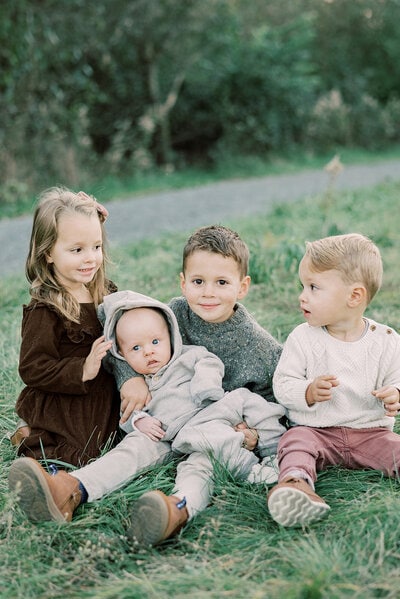 Bring Your Images to Life with
prints
We're big believers that images aren't meant to solely exist in a digital space. One day, most likely, Instagram will be gone, your phone will be replaced and images that you can physically hold in your hand will be the best way to remember those precious moments we captured.
Think about this fact: fifteen years ago, if we had delivered you digital images, they would have been on a floppy disk. With the fast updates to technology, you would have no way to access those images today. Even the online galleries we deliver will eventually fade away.
But prints? Those last. I bet your family still has images from your grandparents (maybe even great grandparents.) And that was likely from a time period when cameras were expensive and prints were harder to come by.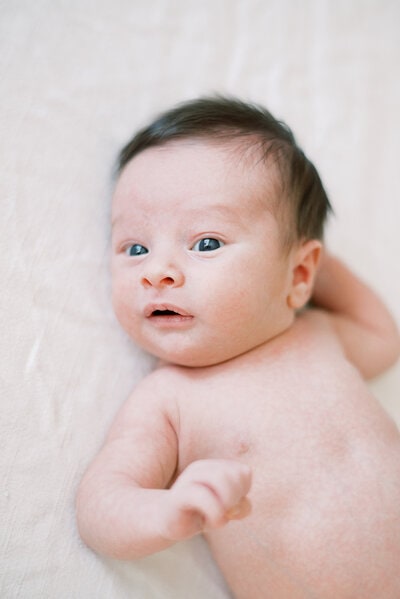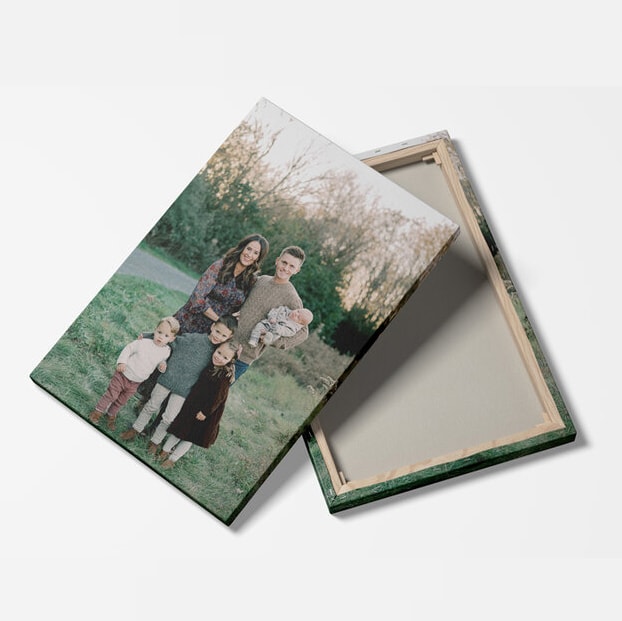 Easy to hang and easy to change out. Canvases are one of our favorite ways to decorate a space. They also work great on little easels placed around the home.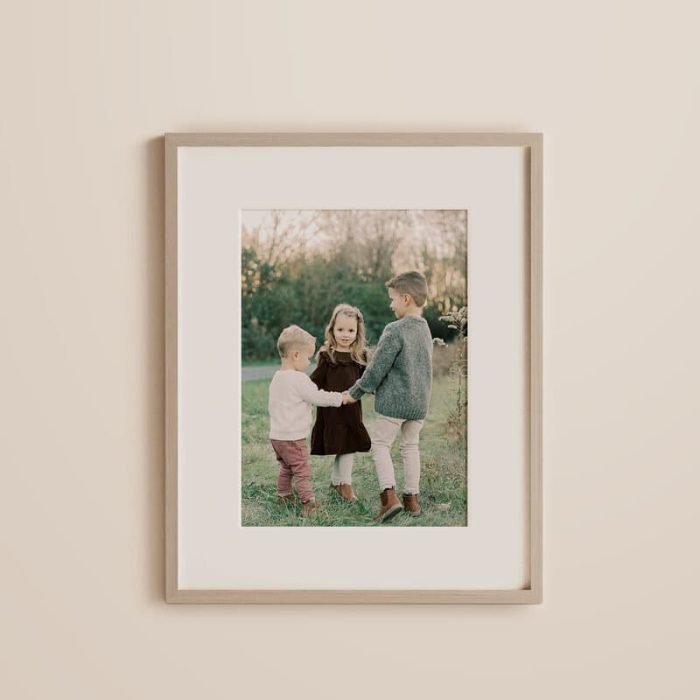 Our framed and matted prints are the perfect way to fill your walls with memories. With a variety of frames to choose from, we'll help you select the perfect image pairings for your space.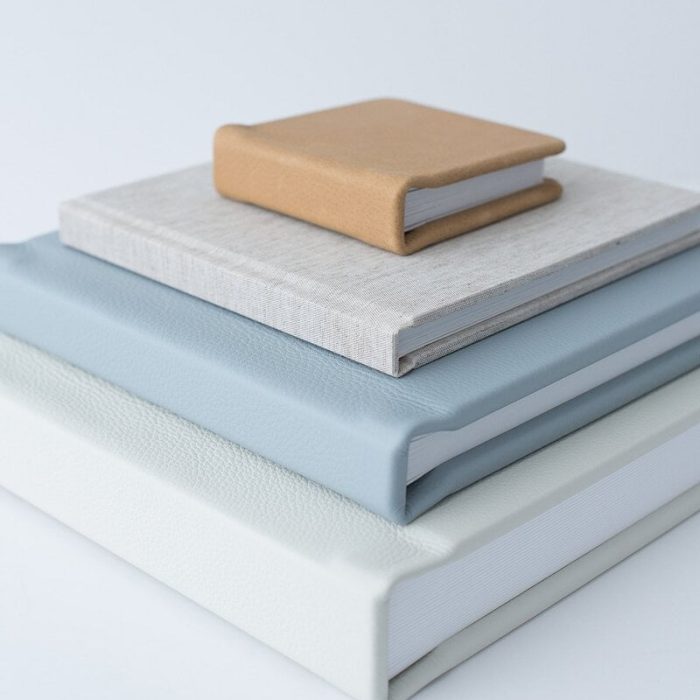 Perfect for those who value legacy. These heirloom albums are a great way to house a large number of images in a beautiful way. Leave them on display as coffee table books or protect them with a legacy box.
Details for ordering will be delivered with your gallery
We know that this guide is long and hopefully it covers everything you need to know to prep for your portrait session. However if there is something we missed, or you need a recommendation feel free to email us.
MEL@MELANIEMARIAPHOTO.COM
insert optional scheduler here