Intimate LGBTQ Micro-Wedding in Vancouver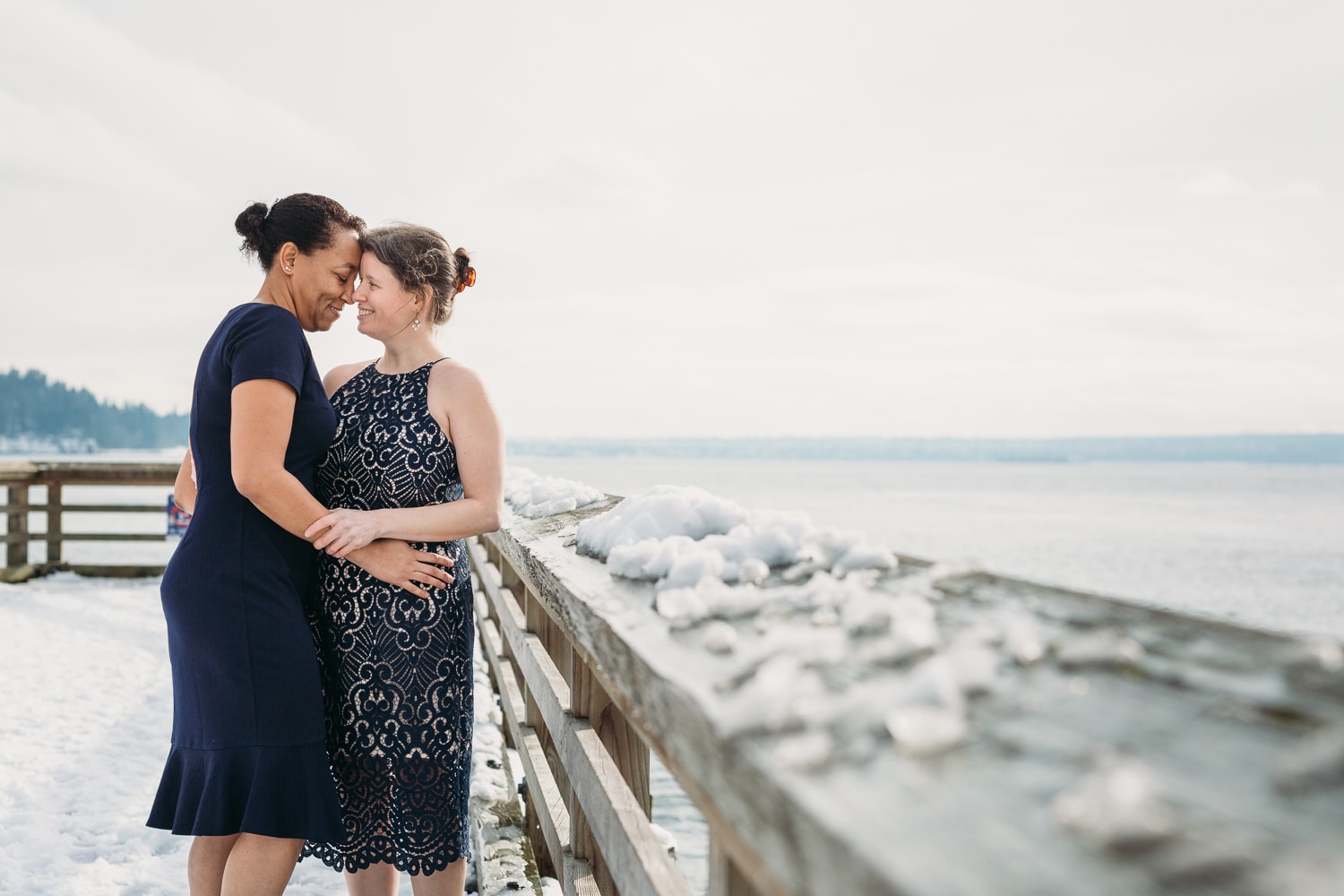 Tammy & Tiffany had their micro-wedding in West Vancouver on a cold February day, which was a bit of a shock to the half of the group from much warmer Atlanta. Everything about their day was simple yet purposeful and meaningful. I knew from the minute I got Tammy's first email that I needed to be a part of it:


"I'm Tammy, and I'm searching for a photographer to capture my sweat, tears, smiles, and, later, inebriated antics as my fiancee and I tie the knot in West Vancouver. I enjoyed your site and so did she, and we think our styles match up well. We're hoping to figure out if this is a mutually desired arrangement (us with you, not me with her. We think we've figured out the latter, even though I'm clearly the big winner here).
So, more about us that you may or may not want/need to know. We're in our mid-forties, women, two kids each, and interracial and international (I'm American and black, she's Canadian and white). The guests range in age from 7 to 80, and half of them are coming from America, but are originally from all over (Brazil, Sweden, Puerto Rico…). Skin hue also covers a wide spectrum. Our colors are navy and white (wedding, not skin). It's supposed to be a short, simple ceremony with a casual reception. I'd love a good selection of silly photos mixed in with the classic, but for the most part we would love to just let you all do what you do."
Right?? Music to my ears.
One of my favourite tips I learned from this wedding is to book your elopement or micro-wedding at an Airbnb or VRBO rental. (Many will state whether they allow events right on the listing). SO many logistical issues get solved! No transportation, no hotel bookings, kitchen & bathrooms nearby, and a bed nearby so each guest can leave for the night whenever they like with no guilt. Then you can have a lovely brunch all together the next day without having to gather again, or even get out of PJ's. This Airbnb rental in the British Properties had 3 floors, 9 bedrooms, a pool, a great view, and still cost less than if each person/family had booked a hotel room. Then you just book your caterer, and all the other services to come to you. Genius.

The couple got ready at the house then had a first look right in the hall between the bedrooms. We did a quick trip to Ambleside beach for some chilly portraits, then back to the house in time for a refresh and for family & friends to start arriving. The intimate ceremony was performed by Doug Cameron, right in the living room. With such a small group, I enjoyed the personal touch of passing the rings around and each person giving their wish for the couple and the things they love about them together. There was delicious food, bubbly, wedding donuts from Cartems, teary speeches, and an abundance of hugs. What more could you ask for.